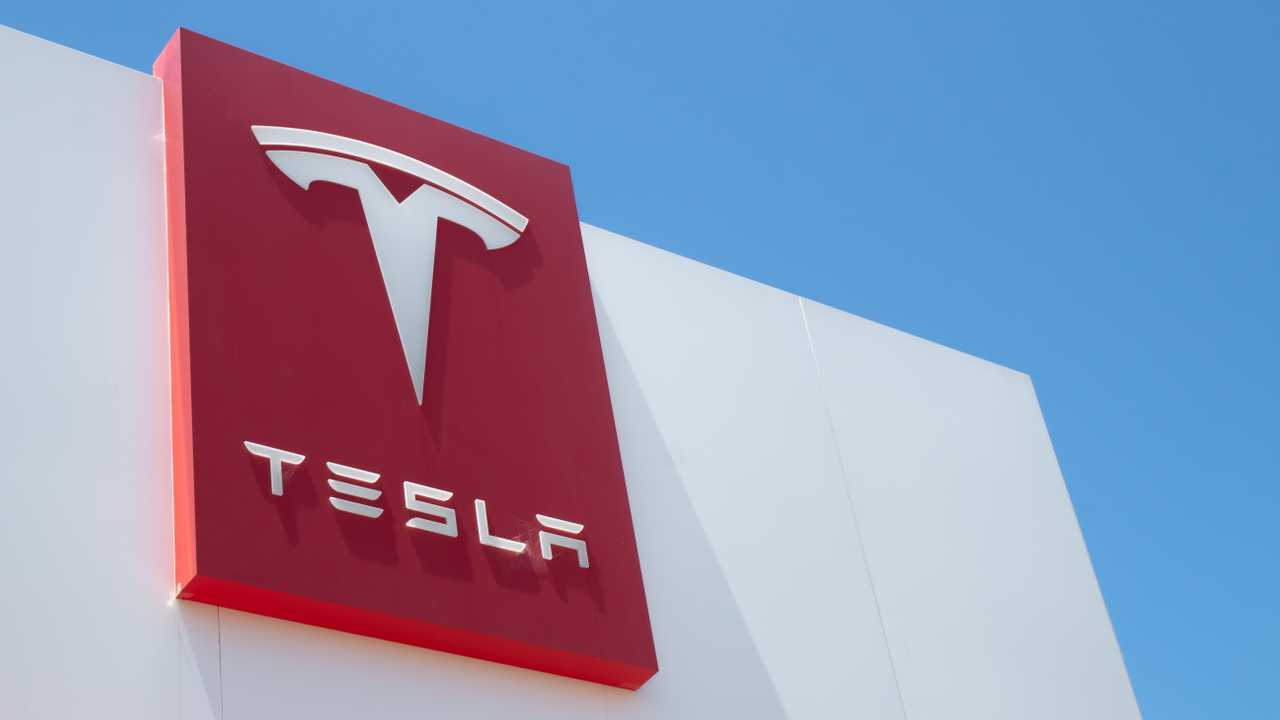 As evacuees lined up at gas stations to flee Florida in the weeks before Hurricane Dorian, Tesla (NASDAQ: TSLA) CEO Elon Musk announced that the company would boost the range of its Model 3 cars, enabling residents to travel further out of the range of the storm. The manufacturer, which has also provided free charging in the lead up to previous storms, was able to extend the range of its vehicles for a short period of time.
在飓风多利安(Dorian)发生前几周,撤离人员在加油站排队逃离佛罗里达州,特斯拉(纳斯达克股票代码:TSLA)首席执行官埃隆·马斯克宣布公司将提高其 Model 3 汽车的续航里程,使居民能够在风暴范围之外行驶。该制造商还在之前的风暴之前提供免费充电,能够在短时间内延长其车辆的续航里程。
Tesla wasn't alone in remotely assisting those in Dorian's path. General Motors provided enhanced OnStar services for customers, including those with lapsed registrations. That technology can help with directions, free calls, in-vehicle Wi-Fi and more.
特斯拉并不是唯一一家远程协助 Dorian 道路上的人。 通用汽车为客户提供了增强的 OnStar 服务,包括那些注册失效的客户。该技术可以帮助定位、免费通话、车载 Wi-Fi 等。
In fact, Tesla and OnStar's moves reflect a deeper shift. Consumer and business-facing infrastructure is growing increasingly connected in an "Internet of Things," with more devices connecting each day: The Economist reports that 1 trillion internet-connected devices may be online by 2035. For some consumers, some of these IoT gadgets may seem superfluous in actually improving our lives (see Amazon's "smart" microwave). However, as Tesla owners have learned, IoT devices can be a lifeline.
事实上,特斯拉和安吉星的举动反映了更深层次的转变。 面向消费者和企业的基础设施在"物联网"中的连接越来越紧密,每天连接的设备越来越多:经济学人 [报告](https://www.economist.com/leaders/2019/09/12 /how-the-world-will-change-as-computers-spread-into-everyday-objects),到 2035 年可能会有 1 万亿台联网设备上线。对于一些消费者来说,其中一些物联网小工具实际上可能看起来是多余的,并不会改善我们的生活(参见 亚马逊的"智能"微波炉)。然而,正如特斯拉车主所了解的那样,物联网设备可以成为生命线。
电动汽车为业主的家庭供电
Electric Cars Power Owners' Homes
While Tesla's news applied specifically to Florida, climate change is impacting homeowners up and down the southeastern coast (and more recently in California), as a warming planet intensifies the Atlantic hurricane season and the Santa Ana winds. As storms grow stronger and more frequent, they'll not only cause more damage to seaside communities, but also the power grid that plays an increasingly vital role in our day-to-day lives.
虽然特斯拉的消息特别适用于佛罗里达州,但气候变化正在影响东南海岸(最近在加利福尼亚州)上下的房主,因为地球变暖加剧了大西洋飓风季节和圣安娜风。随着风暴变得越来越强烈、越来越频繁,它们不仅会对海滨社区造成更大的破坏,还会对在我们的日常生活中发挥越来越重要作用的电网造成更大的破坏。
Less discussed in the news around Tesla was how the company's PowerWalls helped to mitigate electricity loss for residents.
围绕特斯拉的新闻很少讨论该公司的 PowerWalls 如何帮助减轻居民的电力损失。
In the past, homeowners who had installed net-metered solar panels were stuck without power when the grid went down, even though their solar panels frequently survived the storm. In recent years, some PV solutions offered homeowners the opportunity to plug directly into an inverter that supplied direct power. While that solution allowed homeowners to temporarily power their homes during a blackout, solar power failed once the sun went down.
过去,安装净计量太阳能电池板的房主在电网故障时陷入停电,即使他们的太阳能电池板经常在风暴中幸存下来。近年来,一些光伏解决方案为房主提供了直接插入提供直接电力的逆变器的机会。虽然该解决方案允许房主在停电期间暂时为他们的房屋供电,但一旦太阳落山,太阳能就会失效。
Homeowners seeking to power their homes around the clock turned to Tesla's Powerwalls, which can include energy storage (batteries) that can power a home when power is unavailable. In tandem with rooftop PV panels, Powerwalls can power home essentials, like refrigerators, sump pumpts, lighting and air conditioning, when grid power is knocked out by high winds or falling trees.
寻求全天候为房屋供电的房主转向了特斯拉的 Powerwall,其中包括储能(电池),可以在断电时为房屋供电。当电网电力因大风或树木倒塌而中断时,Powerwalls 与屋顶光伏电池板配合使用,可以为家庭必需品供电,如冰箱、污水泵、照明和空调。
In advance of storms, Tesla can remotely engage a software feature called "Storm Watch," which fully charges the unit so that it can power customers' homes for an extended period. Once the storm passes, users' systems automatically return to their regular settings.
在风暴来临之前,特斯拉可以远程启用一项名为"Storm Watch"的软件功能,该功能可以为设备充满电,从而可以为客户的家提供更长的电力。风暴过去后,用户的系统会自动恢复到正常设置。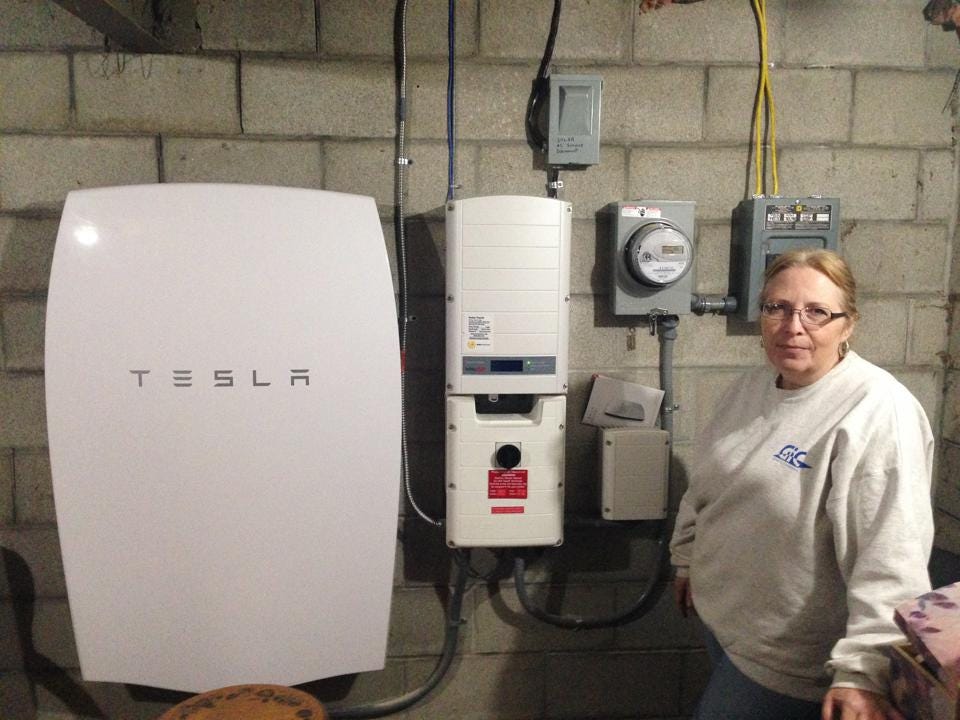 在这张 2016 年 10 月 27 日的照片中,Rhonda "亲爱的"飞利浦在她位于米德尔敦斯普林斯的院子里的特斯拉 Powerwall 电池和逆变器旁边摆姿势,该电池和逆变器连接到太阳能电池板阵列,飞利浦是越来越多的 Green Mountain Power 客户之一,当她的面板不收集太阳能时,使用特斯拉电池存储太阳能。 GMP 一直致力于将太阳能与大规模和小规模的电池存储联系起来。(美联社照片/戴夫克)
Tesla is not the first electric vehicle manufacturer to help its customers optimize their electricity usage in times of need. In the wake of the 2011 Tōhoku earthquake and tsunami, Nissan (OTCMKTS: NSANY) unveiled a function that allowed owners of its Leaf electric car to use their cars as a backup battery for their homes. This year, the company announced plans to expand the program to Australia, while rival Mitsubishi (OTCMKTS: MSBHY) unveiled a similar technology earlier this year. However, Tesla's technology is unique in its ability to remotely provide additional aid to homeowners in times of crisis.
特斯拉并不是第一家在需要时帮助客户优化用电的电动汽车制造商。在 2011 年东北地震和海啸之后,日产(OTCMKTS:NSANY)推出了一项功能,允许其 Leaf 电动汽车的车主将他们的汽车用作他们家的备用电池。今年,该公司宣布计划将该计划扩展到澳大利亚,而竞争对手三菱(OTCMKTS: MSBHY)在今年早些时候推出了一项类似的技术。然而,特斯拉的技术在危机时期能够远程为房主提供额外援助的能力是独一无二的。
物联网将如何真正改变我们的生活
How IoT Will Really Transform Our Lives
What is critical to all of these solutions is remote control and management. The power of IoT is that it provides the possibility for companies, like Tesla, to tailor services to their customers and respond in real-time to unforeseen events. And by collecting data from these devices, the companies can optimize their performance going forward.
所有这些解决方案的关键是远程控制和管理。物联网的强大之处在于,它为特斯拉等公司提供了为客户量身定制服务并实时响应不可预见事件的可能性。通过从这些设备收集数据,公司可以优化其未来的性能。
A good example of this is GE (NYSE:GE), which has begun installing IoT sensors in its aircraft engines, allowing mechanics to remotely monitor the health of individual components and collect data on use, helping to not only prevent engine failure, but also to better monitor usage and wearing tear. Armed with data, airlines can better plan preventative maintenance, reduce downtime and more efficiently deploy their fleet of aircraft, lowering costs and reducing passenger delays.
一个很好的例子是 GE(纽约证券交易所股票代码:GE),它已经开始在其飞机发动机中安装物联网传感器,允许机械工程师远程监控单个组件的健康状况并收集使用数据,不仅有助于防止发动机故障,而且可以更好地监控使用情况和磨损情况。有了数据,航空公司就可以更好地规划预防性维护、减少停机时间并更有效地部署飞机机队、降低成本并减少乘客延误。
IoT is a gamechanger in powering our lives. Coupled with cleantech, IoT is offsetting some of the impacts of climate change. While there has been much hype around the B2C applications of this technology (everything from smart refrigerators to smart doorbells), it is in the B2B infrastructure applications where there is even greater potential for IoT to positively impact our lives and meet the sustainability goals we have for the generations to come.
物联网改变了我们生活的游戏规则。结合清洁技术,物联网正在抵消气候变化的一些影响。虽然围绕这项技术的 B2C 应用(从智能冰箱到智能门铃)有很多炒作,但正是在 B2B 基础设施应用中,物联网有更大的潜力对我们的生活产生积极影响,并为子孙后代实现我们的可持续发展目标。
---