The Internet of Things (IoT) is a network of connected physical objects that collect and transmit data via the internet using embedded sensors. Objects that form part of the IoT are described as 'smart' and extend beyond traditional devices such as laptops, tablets and smartphones to smart thermostats, light bulbs and even toothbrushes. IoT devices are designed to increase efficiency and convenience, and are useful for a range of applications. In the water sector, real time remote monitoring IoT smart sensors can provide a convenient and accurate means of acquiring vital open channel flow data.
物联网(IoT)是一个连接物理对象的网络,它使用嵌入式传感器通过互联网收集和传输数据。构成物联网一部分的对象被描述为"智能设备",并从笔记本电脑、平板电脑和智能手机等传统设备扩展到智能恒温器、灯泡甚至牙刷。物联网设备旨在提高效率和便利性,可用于一系列应用。在水务领域,实时远程监控物联网智能传感器可以为获取重要明渠流量数据提供方便、准确的手段。
Open channel flow measurement in South Africa is limited to manual isolated measurements, commercial flow or ultrasonic sensors or municipal and national flow gauging stations, which are on the decline. The flaws in all three methods coupled with the speed of observed deterioration in many of South Africa's rivers should be an immediate call for action: we can't manage what we are not measuring.
南非的明渠流量测量仅限于手动隔离测量、商业流量或超声波传感器或市政和国家流量测量站,这些都在下降。所有这三种方法的缺陷,加上观察到的南非许多河流恶化的速度,应该立即呼吁采取行动:我们无法管理我们没有测量的东西。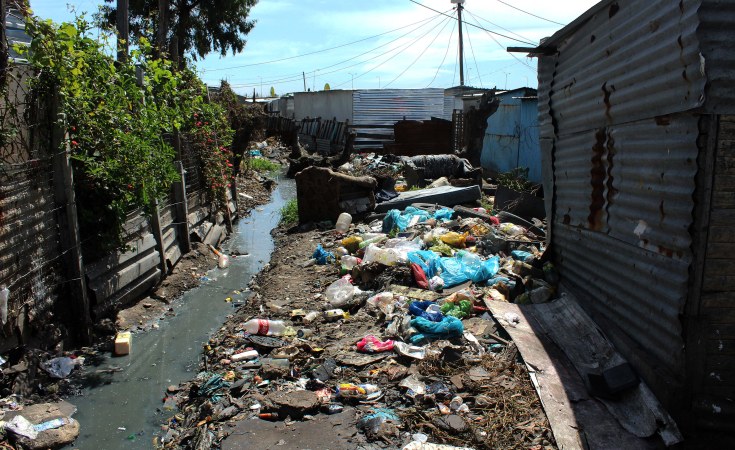 图:A filthy ditch runs alongside the houses in Kanana.
A team of researchers from the University of Cape Town's Future Water Institute has developed an IoT enabled low-cost flow monitoring sensor designed for installation in the challenging South African context. The sensor makes use of off-the-shelf sonar devices to gauge river height which is used as a proxy for measuring open channel flow rates. The logger operates on a Global System for Mobile Communications based IoT node and transmits data to a centralised server in near real time.
开普敦大学未来水资源研究所的一组研究人员开发了一种支持物联网的低成本流量监测传感器,该传感器专为安装在充满挑战的南非环境中而设计。该传感器利用现成的声纳设备来测量河流高度,该高度用作测量明渠流速的代理。记录器在基于物联网节点的全球移动通信系统上运行,并将数据近乎实时地传输到中央服务器。
The sensor has been tested in a wide range of applications including stormwater quantification and re-use in urban channels, measuring greywater discharge, calibrating drainage models and monitoring river flow.
该传感器已经在广泛的应用中进行了测试,包括城市渠道中的雨水量化和再利用、测量灰水排放、校准排水模型和监测河流流量。
There is potential for smart IoT water technologies to contribute to South Africa's hydrological database. Advantages include automation, an ability to view variability in real time and at high resolution, and an opportunity to establish a dense network of gauging stations at a refined scale across the country. Now, more than ever, we need a new commitment to acquiring high quality, reliable hydrological data that builds confidence and supports effective water resource management.
基于物联网的智慧水务技术有潜力为南非的水文数据库做出贡献。优势包括自动化、实时和高分辨率查看变化的能力,以及有机会在全国范围内以精细的规模建立密集的测量站网络。现在,我们比以往任何时候都更需要新的承诺来获取高质量、可靠的水文数据,以建立信心并支持有效的水资源管理。
This article is based on the following publication: Fell, J., Pead, J. and Winter, K. 2018. Low-Cost Flow Sensors: Making Smart Water Monitoring Technology Affordable.
本文基于以下出版物:《低成本流量传感器:使智能水监测技术经济实惠》Fell, J.、Pead, J. 和 Winter, K. 2018。
---
原文链接:Smart water monitoring and the Internet of Things (IoT)